OLIVIA, GREAT DANE

Angel on 4 Paws
Nearly starved to death and heartworm positive...
It was a cold January morning when I received a phone call from the local animal shelter. The story I was told sounded horrible. A 6 year old female Great Dane was seized by a local Sheriff Deputy because the dog was near death from starvation and left out in the freezing cold.
Rescuing Animals
By Joyce Whitis
Published: Sunday, May 2, 2008 (Empire Tribune)

CLICK PICTURE TO READ ARTICLE


1 month after her rescue
She was chained outside in a trailer park without shelter. The food was not given to her in a bowl but dumped on the ground. It got wet and moldy from the rain, so more food was simply dumped on top of the moldy food. The dog gave up eating. She gave up living. She was also heart-worm positive and neither spayed nor had any vaccinations.
Seized by Sheriff's Deputy

She was seized to be euthanized because she barely weighed 50% of what she was supposed to weigh, 70 lbs.

She was weak, couldn't walk, was ice cold and near death. However, the vet who treated her that night had put her on fluids instead of euthanizing her, because she showed signs of life. Thank you, Dr. White!

The owner was arrested on animal cruelty charges.
A week later, the Great Dane needed a foster home where she could be rehabilitated or put through the shelter system.

There was no way I could say no. I already had a Great Dane named Oliver and a Yellow Lab named Butters.

So I picked her up from the clinic. OMG! She was in worse shaped than I could have imagined, even after a week of treatment.

But she was able to walk and eat, that's all it takes.
Rescued and Rehabilitated

I decided to name her Olivia.

After a few months of rehabilitation, heartworm treatment, getting her spayed and vaccinated, she had doubled her weight to 140 lbs and was as healthy and happy as a dog could be.

Despite of the cruel treatment she received in the first 6 years of her life, she was a very social dog and enjoyed being around people.

Most of all those who could pet her huge head without end.
Discovering Olivia's Talents

So I decided to take her to a nursing home visit. Everybody loved Olivia.

After the first initial "OOOOH, that's a HUGE dog!" she charmed everybody out of their unease and into adoring her.

She laid her big head ever so gently into the lab of a fragile 95 year old senior citizen and didn't mind if somebody with Parkinson's' accidentally poked around her face.


Olivia at the Community Nursing Home
She kept pushing her nose underneath those hands and encouraged them to pet her. During one visit, one of the nurses saw Olivia and got so scared, she was shaking.

She explained that she had a life long phobia of dogs, because she got bitten as a child.

It took ten minutes with Olivia and a crying nurse was on her knees hugging the biggest dog in town and getting her tears licked off too. Olivia was just as gentle with children.

Every 5 year old could take her lead and she would follow carefully, keeping an eye on them.


Olivia at the Community Nursing Home

Olivia at the 4H Club

I am a wildlife rehabilitator and work with many animals every year, most of them orphaned infant squirrels, birds, raccoons, opossums, rabbits, kittens and puppies.

Olivia assisted in cleaning and keeping warm hundreds of them.

I often took Olivia with me to presentations, because I am scared to talk in public. With Olivia at my side, all eyes were on her and my fears became manageable. I just held onto her.
Nobody is perfect

The only flaw Olivia has is with thunderstorms. She is not scared of them and hides. No!

She wants to protect us all from the sky growling down at us.

And she learned that eventually the storm goes away, which she attributed to her barking and chasing it off.

We have tried everything and back to help her deal with this, but we didn't get through to her.
Ready to go Home...

While I am writing this (one day after Thanksgiving 2010), Olivia is laying behind me on her mini futon. She has been to the vet this morning, because she didn't eat nor drink yesterday and couldn't get up this morning.

She is nearly 10 years old, the vet said. Her heart is not cooperating anymore. It is failing. We can make her comfortable for a short period of time with medication, but she will not get better.

She is dying. Maybe a few more days.
I felt like reflecting on the oh so precious time I had with Olivia. I worked with thousands of dogs in my life and owned quite a few. Olivia tops them all. She has been an angel on 4 paws and once she has gone home, the world will not be the same anymore. For me anyway.
Thank you for allowing me to spend nearly 4 years with this wonderful animal. I'd wish it had been 40 years. May you cross the Rainbow Bridge peacefully, my sweet sweet angel.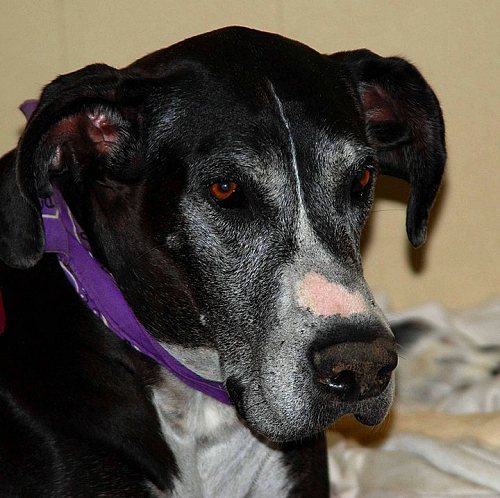 12/31/2000 - 11/27/2010